Regular price
Sale price
€19,99
Unit price
per
Sale
Sold out
Aus aktuellem Anlass (Lieferengpass) ist die maximale Bestellmenge auf 300Stück/Praxis reduziert. Neue Zahnbürsten werden Ende Oktober/Anfang November verfügbar sein. Vielen Dank für Ihr Verständnis! Vorbestellungen gerne per Email an: info@naturebrush.eu
Experience toothcare in a completely new way! This is a vegan and environment-friendly toothpaste in the shape of a tablet. It is 100% plastic-free, organic and free from preservatives, consistency regulators and other unnecessary ingredients. Simply chew a tablet and then brush your teeth as usual – done! The teeth are naturally polished to smoothness by fine micro cellulose and by the aid of microfine silica abrasives, which give the toothbrushing-tablets an extremely tooth-friendly RDA-level (abrasiveness) of approx. 35. This will not only let your teeth shine, but the smoothly polished surfaces will also make plaque buildup impossible.
Content:
Each pack contains 400 toothbrush tablets.
Note:
Not suitable for children under 6 years.
Ingredients:
Microcrystalline Cellulose, Sodium Bicarbonate, Silica, Sodium Lauroyl Glutamate, Magnesium Stearate, Natural Mint Flavor, Menthol, Xanthan Gum, Stevioside, Citric Acid, Sodium Fluoride, Eugenol. 
Manufacturer:
DENTTABS GmbH; Court Street 12-13; 13347 Berlin; Germany

View full details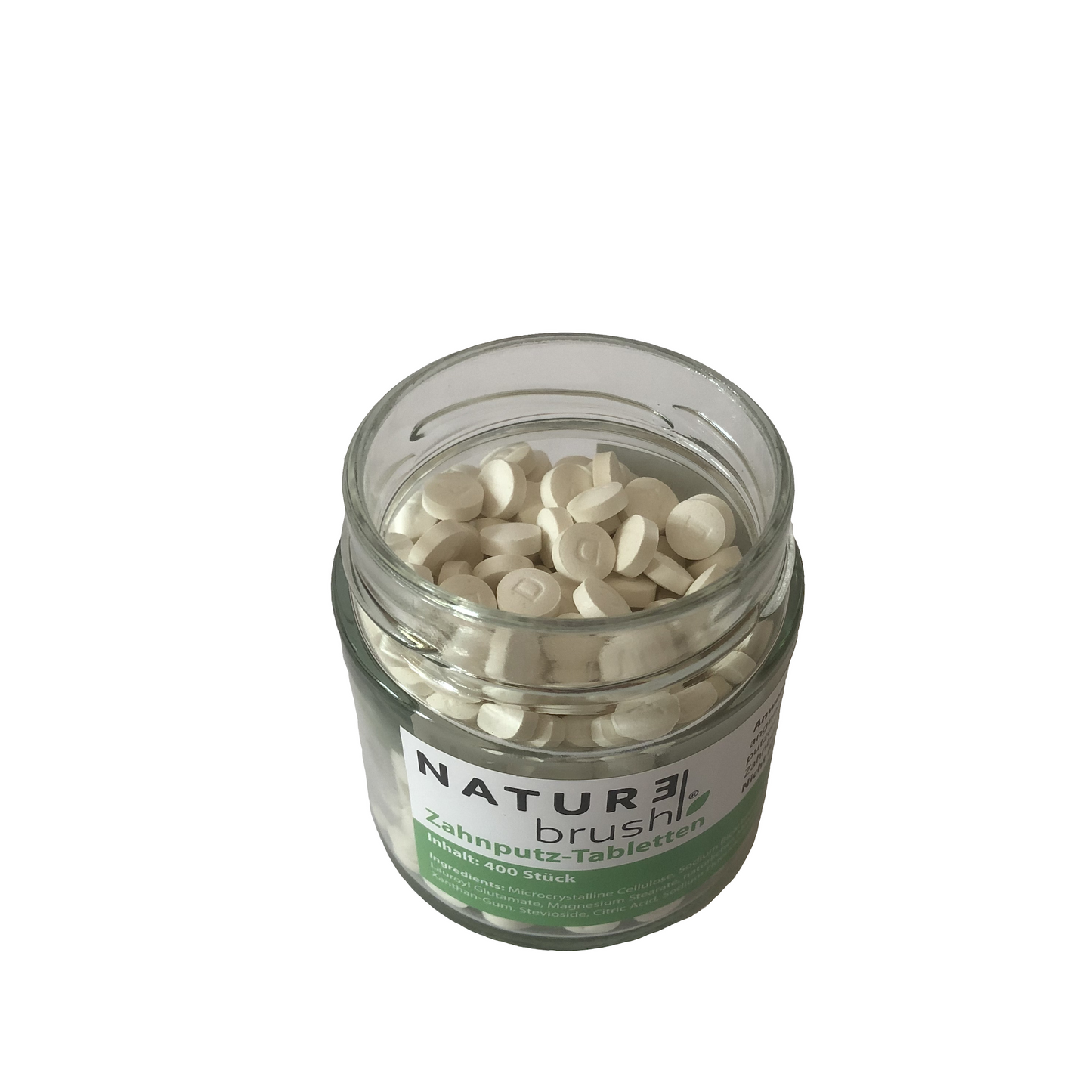 Collapsible content
NATUREbrush Individual

Sie möchten Ihr Logo auf der NATUREbrush oder Ihr persönliches Design auf der Papierverpackung? Kein Problem! Mit NATUREbrush INDIVIDUAL erfüllen wir Ihre Wünsche. Kontaktieren Sie uns, um mehr zu erfahren.
Vegan

Unsere Produkte sind vegan, da wir keine tierischen Borsten verwenden.
Versand

Die Lieferzeit innerhalb Deutschlands beträgt 2-6 Werktage und International 2-14 Werktage (Sonderbestellungen/Massenbestellungen ausgeschlossen). Werktage sind Montag-Samstag, ausgenommen gesetzliche Feiertage in Deutschland. Alle Bestellungen werden per Deutsche Post DHL Group versendet. 

Versandkosten:
Für den Versand innerhalb Deutschlands erheben wir eine Pauschale in Höhe von 5,99€ für den Versand. Ab einem Nettoeinkaufswert von 100,00€ versenden wir deutschlandweit versandkostenfrei. Wir versenden umweltfreundlich und schnell mit DHL GoGreen. Die Emissionen, die durch den Versand entstehen, werden durch Investitionen in weltweite Klimaschutzprojekte ausgeglichen.
Hinweis

Bitte beachten Sie: Unsere Preise im Onlineshop sind netto, zzgl. MwSt. und Versand.
Fragen

Haben Sie noch Fragen über unsere Produkte oder fehlen Ihnen weitere Informationen? Schreiben Sie uns gerne eine Email an: info@naturebrush.eu

Wir werden Ihnen schnellstmöglich antworten. 
Von Zahnärzten entwickelt

Wir sind selbst Zahnärzte und wissen, worauf es ankommt!

Umweltfreundlich

Unsere Produkte sind eine umweltfreundliche Alternative zu den herkömmlichen Produkten.

Bezahlbar

Wir verzichten auf große Werbung, Dentaldepots etc. und können Ihnen so die besten Preise weitergeben.

Imagegewinn

Sie setzten sich von anderen Praxen ab und zeigen Ihren Patienten, dass Ihnen die Umwelt wichtig ist!